Vetrofluid applied as a cure on new runways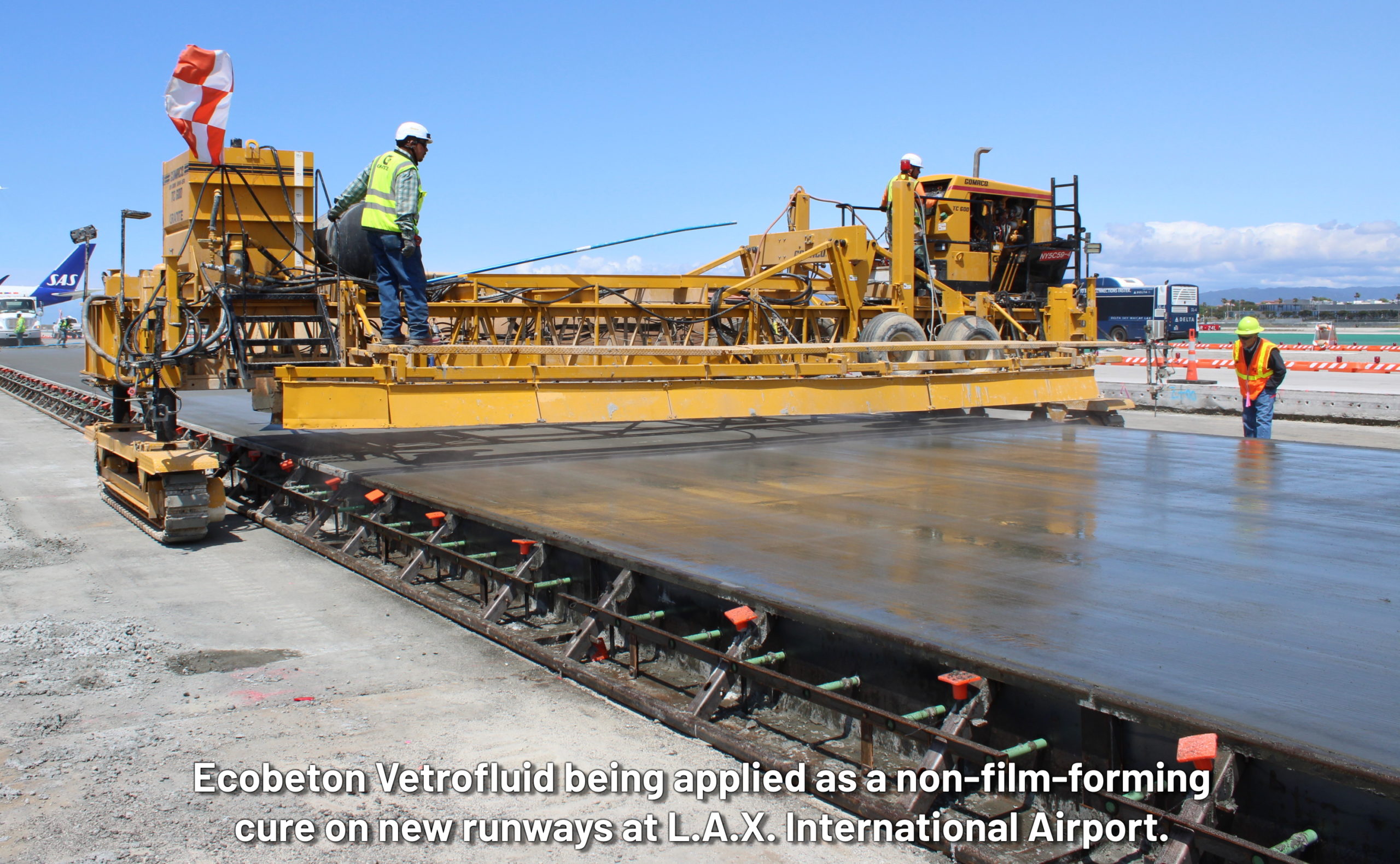 Vetrofluid® is permanent waterproofing, protecting concrete from deterioration caused by salts, freeze & thaw cycles, corrosive chemicals and more. Its formula is based on waterglass technology using a proprietary catalyst that allows Vetrofluid® to penetrate existing concrete to depths of 1 1/2 inches on average and penetrates and permanently protects new concrete as a cure up to 3 inches! Vetrofluid® seals the pores of the concrete and becomes a permanent barrier, when applied to either the positive or negative pressure side. Vetrofluid® permanently waterproofs, hardens and protects all types of concrete.
Left: Ecobeton-USA's non-film-forming Vetrofluid is being used as a cure on new runways at major US International Airports dramatically reducing shrinkage or spider cracking allowing substantially earlier access to new concrete runways for paint striping and signage.
PROVEN TO PERMANENTLY PROTECT CONCRETE
Runways, Highways, Buildings, Bridges, Overpasses, Dams, Tunnels, Parking Garages, Wastewater Treatment Plants, Industrial Plants, Drinking Water Tanks, Basements, Underground Walls, anywhere you need to increase the durability of concrete!
Spill water onto concrete and you can observe that water absorbing into the concrete much like a sponge.  When that water freezes and expands, it can cause cracking, spalling, lifting and more.  If oil or fuel is spilled, it can absorb and stain.  Chlorides, acids, contaminants can all absorb or stain or corrode your concrete.  Surface sealers can only treat concrete superficially which is why they need to be (and can be) stripped and reapplied.
Video runtime 4 minutes (4:12)
Vetrofluid Introduction & Application video
Vetrofluid Depth of Penetration Testing by Multiple Independent Labs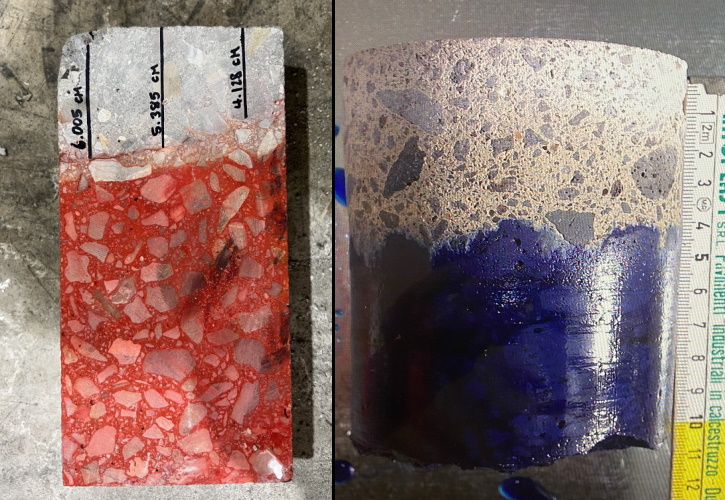 Vetrofluid Is Unlike All Other Concrete Treatments
Vetrofluid is non-sacrificial.  Vetrofluid is permanent.  Our proprietary and unique catalyst allows Vetrofluid to penetrate 1.5″ on average into the concrete filling existing voids & cracks even up to 3mm wide.  Vetrofluid reacts with the free lime that exists in the concrete and when cured becomes a permanent part of the concrete matrix which dramatically improves the life cycle and performance of your concrete while providing a host of other benefits.
Left: Multiple Laboratory core samples taken from Vetrofluid® treated concrete that was saturated with liquid dye. The dye absorption stops where Vetrofluid had penetrated and cured to test depth of penetration under pressure.
Vetrofluid Replaces or Eliminates the Need for Other Products
VETROFLUID REPLACES CONCRETE FILM FORMING SACRIFICIAL CURES
New concrete can be treated with Vetrofluid shortly after initial set.  Concrete treated with Vetrofluid as a cure does not need a separate cure and will not need to be cleaned after curing.
VETROFLUID REPLACES DENSIFIERS
New concrete cured with, or existing concrete treated with Vetrofluid does not require and will not accept a separate densifier.  Concrete treated with Vetrofluid can be mechanically polished just as any other densified concrete.
VETROFLUID REPLACES RELEASE AGENTS FOR PLYWOOD
Vetrolfuid is also being used as a release agent on forming wood & plywood.  The simple application is very fast and highly effective.  Regular plywood of various grades treated with Vetrofluid reduce complexity and costs by eliminating the need for epoxy based, VOC containing form release agents or specialty APA polyform panels.
Vetrofluid Lab Test Results
ASTM C78 – Flexural Strength Testing
Performed by: AZTECH, April 2021
Result summary: After 28-days, top surface treated concrete beams increased in flexural strength by approximately 20% over untreated beams.
Untreated Beam: Strength 795 PSI
Top Surface Treated Beam: Strength 950 PSI


ASTM C666 – Freeze Thaw Resistance Testing
Performed by: SGS TEC, December 2020
Result summary: After 300 Freeze / Thaw Cycles, Vetrofluid treated concrete maintain 94% integrity without further detectable loss after the first 38 cycles.
ASTM C1453 – Chloride Ponding Testing
Performed by: SGS TEC, January 2021
Result summary: Vetrofluid concrete resists chloride acids.  See standard concrete break down and expose aggregate while Vetrofluid treated concrete maintains its integrity.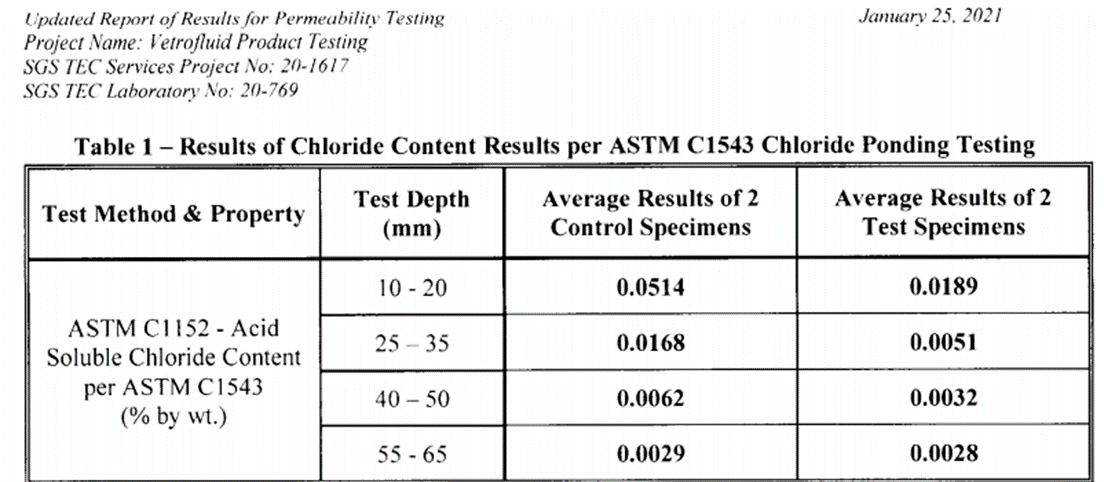 Army Corps of Engineers CRD-C 48-92 – Water Permeability of Concrete
Performed by: SGS TEC,September 2020
Result summary: Verofluid treated concrete was subjected to 200 PSI of water for 10 days with virtually no penetration.  Results measured at 0.000169033 FT3/FT2/Year. (~1 U.S. teaspoon / year)
More ASTM results are available and will be posted here soon.