Frequently Asked Questions
What is Ecobeton-USA Vetrofluid?
Catalyzed liquid glass technology designed to be used as a permanent concrete anti-deterioration product. Vetrofluid is a liquid Pozzolanic material, by adding Ecobeton's catalyst to the mix, Vetrofluid will rapidly absorb into the concrete up to 40mm or 1.5 inches on average, reacting with the Pozzolanic materials in the concrete creating the additional benefits Vetrofluid offers.
Vetrofluid is a one-time permanent, non-sacrificial application.
Is Vetrofluid a sealer, densifier, or curing compound?
There are two types of sealers: penetrating and film-forming. Vetrofluid is a permanent penetrating sealer that stops water intrusion up to 200 psi (positive or negative side application), tested by the Army Core of Engineers. So yes, it is a sealer. Other sealers are temporary, sacrificial, and will require ongoing maintenance and reapplication.
Vetrofluid increases flexural beam strength by up to 30% and compressive cylinder strength by up to 12%, so yes, it is considered a densifier as it makes concrete more robust. Vetrofluid does not fall into the topical ASTM-C-309 standard; we are not film-forming. Vetrofluid is a penetrating sealer that reacts with free lime to create an internal waterglass barrier that fills every pore, fissure, crack (up to 3mm in width), opening, and void. Vetrofluid permanently changes the matrix of the concrete. By penetrating and curing internally, Vetrofluid stops cracking and concrete dusting and strengthens concrete by slowing the dehydration of water. Most penetrating sealer technologies will drop up to 5 mm (less than ¼") below the surface. Vetrofluid is the only TRUE waterglass technology in the world that penetrates concrete an average of 40 mils.
What happens if Vetrofluid is applied to Elephant Armor too soon?
It will delay the curing process substantially.
How does Vetrofluid affect stain, paint, or striping?
Vetrofluid will not adversely affect the bonding of topical stains, paints, striping, or coating.
How long does Vetrofluid need to cure before applying a topical coating?
We recommend a minimum of seven days. A complete cure is ideal.
For new concrete, you must wait for the minimum ASTM complete 28-day cure.
How many applications of Vetrofluid are recommended for everyday applications?
Two applications wet on wet, averaging 130 square feet per gallon.
How long have you been around?
Ecobeton products have been available for 37 years.
How many countries is Vetrofluid used in?
38 countries around the world.
Can Vetrofluid be used on new or existing concrete?
Vetrofluid can be used on both new and existing concrete.
On what concrete can Vetrofluid be used?
Roads
Bridges
Tunnels
Airports (landside and airside)
Waste-water treatment
Concrete buildings (i.e., tilt-up)
Concrete pavers/CMU (brick/block)
Concrete foundations (positive/negative)
 
Will Vetrofluid allow concrete to breathe?
Yes, Vetrofluid will allow vapor transmission but not allow water molecules to pass through.
How is Vetrofluid applied?
Concrete must be clean of existing sealants, coatings, paints, oils, etc.
To test if the concrete is ready to accept Vetrofluid, pour a small amount of water onto the surface. If color intensifies (gets darker) and moisture is absorbed into the concrete, the concrete will accept Vetrofluid.
Is Vetrofluid safe to be used around animals?
Is Vetrofluid safe to use around open waterways?
What size containers are Vetrofluid available in?
One-gallons buckets
Five-gallon buckets
267-gallon totes (1000 liters)
What is the coverage rate of Vetrofluid?
130 feet per gallon on average. *Depending on the porosity of the concrete, this number will go up or down.
What is Vetrofluid's melting point?
What is the shelf-life of unopened Vetrofluid?
What is the shelf-life of opened Vetrofluid?
3-Years when properly sealed.
Is Vetrofluid freeze-thaw stable?
Yes, if Vetrofluid freezes, make sure you shake the container before use.
Does Vetrofluid have an odor?
No, Vetrofluid has zero VOC content.
Are there any surfaces Vetrofluid should not come into contact with?
Yes – Protect glass and aluminum. If not removed, Vetrofluid will pit both glass and aluminum.
Can color be added to Vetrofluid?
No, there are no solids in penetrating sealers.
How can Vetrofluid be considered a penetrating sealer, yet concrete treated with Vetrofluid can still be stained?
Vetrofluid drops right below the surface, not affecting surface tension. Vetrofluid is not film-forming.
Since Vetrofluid drops below the surface, should the surface of concrete be treated with another product for abrasion resistance?
No – there is nothing topical other than an epoxy, urethane, or resinous coating that will permanently change the matrix of the topical surface. These coatings will also create maintenance. Vetrofluid is a one-time application that does not require any reapplication.
Will Vetrofluid affect stamped colored concrete?
Vetrofluid is perfect for stamped concrete with integral color. Most stamped concrete will be stained after installation and require a film-forming topical sealer – Vetrofluid is not a topical sealer. If you are unsure whether Vetrofluid should be applied, pour water onto the stamped concrete. If the stamped concrete darkens when you use water, the concrete is ready to accept Vetrofluid.
Any considerations about using Vetrofluid as a vapor barrier for epoxy floors?
Vetrofluid must be fully cured before applying the epoxy coating. Otherwise, you will get bubbles in the epoxy.
When is Vetrofluid applied as a cure for new concrete? As
As a cure, it would be applied at the same time you finish the concrete. The total cure for Vetrofluid is 28 days per ASTM concrete standard.
Using Vetrofluid as a cure, when would you do your green cuts and soft cuts?
Regular cycle, whether that was 24 or 48 hours.
What does Vetrofluid resist ?
Vetrofluid has been tested for performance against 53 chemicals, including acids, fuels, oils, chlorides, etc.
Help prevent FOD (Foreign Object Debris), make paint stripe removal more efficient, protect from UHP (Ultra-High Pressure) pressure cleaning.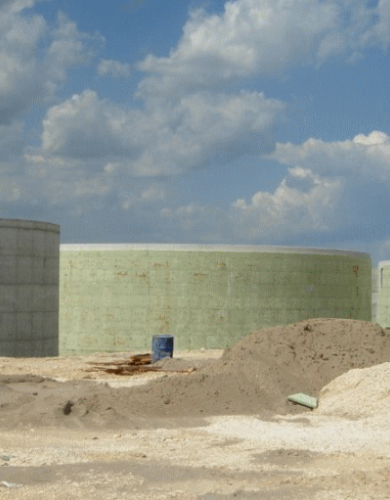 Drinking water compatible, resists water penetration measured at 0.000169 ft3/ft2/Year at 200 PSI!  (That is a water absorbtion rate less than 1 teaspoon per square foot per year)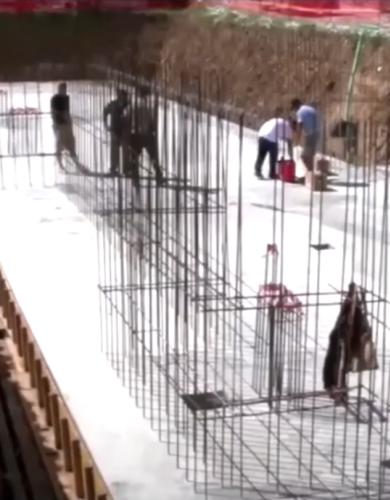 Positive or Negative side water resistance means you can treat new foundations from the exterior or treat existing concrete from the interior.  Contractors have also been telling us that Vetrofluid has been working great as a treatment for forming plywood without needing to use APA plyform.  Read more about that here.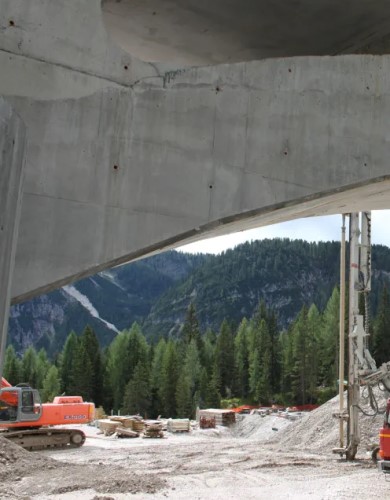 Ecobeton-USA Vetrofluid can be applied over open waterways with no harm to the environment!
Cracking and spalling, stains from oils, organic growth. Vetrofluid will help keep up your curb appeal for years to come.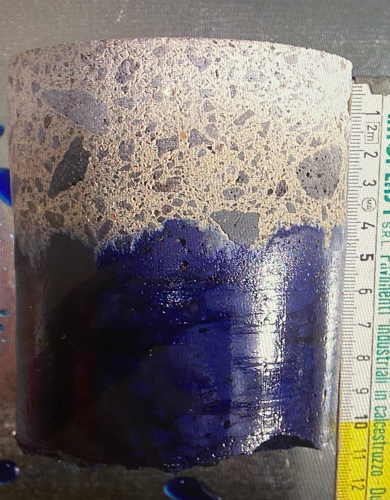 Vetrofluid penetrates concrete 1.5 inches on average  and cures into a permanent, thick matrix of sodium silicate glass withing that top 1.5 inches of concrete that protects from water, acids, corrosives, freeze thaw cycles and more!
Need any information that is not available here, please reach out, we are happy to help.